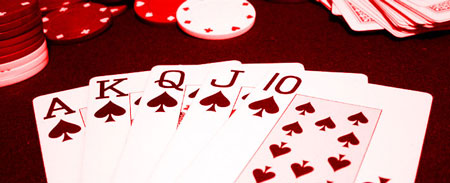 One of the best ways to improve you poker skills, other than practising again and again with a free poker game, is to read on of the many high quality books available. By far the most influential poker book in the world is Doyle Brunson's Super/System. The collection of poker essays encompasses a range of games but by far the most influential material was Doyle's own section on No Limit Texas Hold'em. Within his chapter he advocated an aggressive brand of poker that was previously unheard of.
Coupled with this book was the work of David Sklansky: The Theory of Poker. This book outlined some of the fundamental strategic and mathematical concept involved in the game. The most important concept to originate from this book was the fundamental theorem of poker which stated that: "Every time you play a hand differently from the way you would have played it if you could see all your opponents' cards, they gain; and every time you play your hand the same way you would have played it if you could see all their cards, they lose."
Aside from using these piece of poker literature to improve your game there are numerous training sites that offer video tutorials. The first poker training site to hit the web was CardRunners. This site brought some of the online world's best players together to teach their skills to aspiring player. In addition to this site: DeucesCracked, pokerstrategy.com and PokerXFactor all provide players with a cornucopia of training material.
The best way to improve in poker is to learn from those around you. Unlike many professional endeavours, the poker community is willing to help each other in the quest for improvement. So, if you want to take your game to the next level it's wise to invest some time and money in some of the high quality material on offer.